We've just seen what is probably the worst jobs report in the life of anyone reading this.  That's the bad news.  The good news?  Hopefully, we'll never see a report like this again!  Everyone was expecting it due to a planned government shutdown, so it shouldn't have been a surprise to anyone but it is still jolting to see it in comparison to The Great Depression Era as illustrated below from Time Magazine's May issue.
Source: Time Magazine May 2020
The staggering data of widespread unemployment that is affecting a large portion of the population is a wide contrast from the spectacular market rebound we have experienced off of the stock market bottom of March 23rd when we saw the market down nearly 35%.  
Ycharts
The tech heavy Nasdaq has broke even for the year with winners like Amazon, Netflix, Microsoft and Zoom all performing well as people spent more time working and relaxing from home.  
You may be asking yourself how could the market be so dislocated from the reality of a deep recession?  The answer is complicated but the main reason is the huge green wave of money that the Federal Reserve has pushed into the market through The Cares Act and the Paycheck Protection Program.  
This program provides small businesses with funds to pay up to 8 weeks of payroll costs including benefits. Funds can also be used to pay interest on mortgages, rent, and utilities.
The Paycheck Protection Program prioritizes millions of Americans employed by small businesses by authorizing up to $349 billion toward job retention and certain other expenses.
More importantly back in the week of March 16th the Federal Reserve agreed to backstop Money Market funds and Municipal Bonds with liquidity injections and later in April agreed to support the corporate bond market.  This massive injection of funds has helped take the worst case scenario of a financial meltdown off of the table and since then we have seen markets move almost straight up.
Proceeding with Caution
There is a tremendous amount of uncertainty with many states starting to reopen and the worry of another potential outbreak.  For this reason we remain cautious.  We have also seen the stock market move from an extreme oversold level back in March to 

near-term 

overbought or expensive prices.
Source: Factset
The most expensive sectors of the market as seen below are Consumer Discretionary, Technology, Communication Services and Materials.
Source: Factset
From a seasonality perspective, we are currently entering the summer months which has historically been of of the weakest periods of the year.  As shown below, the S&P 500's median performance from the close on 5/11 through 5/18 has been a decline of 0.65% which ranks in just the 9th percentile for all one week periods of the year.  The S&P 500's median one-month return is positive at 0.37% but still ranks below the 30th percentile of all rolling one month periods.  While one week and one month returns come in at the low end of the historical range, the S&P 500's median three-month gain of 3.08% ranks considerably better in the 61st percentile of all rolling three-month periods.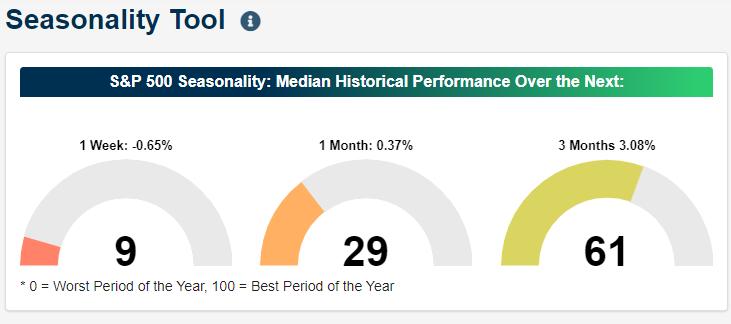 Source: Factset
With markets reaching overbought levels, unprecedented uncertainty ahead of us and seasonally lower volume in the markets during the summer months, we believe that the markets are at a near-term high.
We are still holding onto protection and safe investments within portfolios and plan to re-balance portfolios and purchase stock investments on weakness in the months ahead.
It is normal to feel anxiety over the current market volatility. We are here to help!  Please reach out to our office if you need to discuss your financial situation.

Parker Christiansen 
CEO / Wealth Advisor 
Presidio Wealth Management
P.S. Please feel free to forward this commentary to family, friends, or colleagues. If you would like us to add them to the list, please reply to this e-mail with their e-mail address and we will ask for their permission to be added.
Securities offered through Triad Advisors, member FINRA/SIPC. Investment advice offered through Resources Investment Advisors, Inc., an SEC-registered investment adviser. Resources Investment Advisors, Inc., and Presidio Wealth Management are not affiliated with Triad Advisors. This email and any attachment are solely for the use of the intended recipient (or an authorized agent of the intended recipient). This communication may contain information that is proprietary, privileged, confidential or otherwise legally exempt from disclosure. If you have received this email by mistake, you are not authorized to read, print, retain copy of disseminate it or any attachment. Please notify the sender by reply email and delete this message and any attachments from your computer system. 
Investment advice offered through Resources Investment Advisors, an SEC-registered investment adviser.  This article is intended to be a general commentary on market conditions and is not investment advice.  Every individual's situation is different.  Therefore, if you would like individualized advice for your situation, please contact us. 
To ensure compliance with applicable Internal Revenue Service regulations, any tax advice contained in the email was not intended or written to be used, and cannot be used, for the purpose of avoiding penalties under the Internal Revenue Code. 
Please note that all trade orders are not accepted and are not acted upon by email, facsimile, voicemail or with unlicensed personnel. All orders must be communicated personally to your representative.